Conceiving the encounter while it is taking place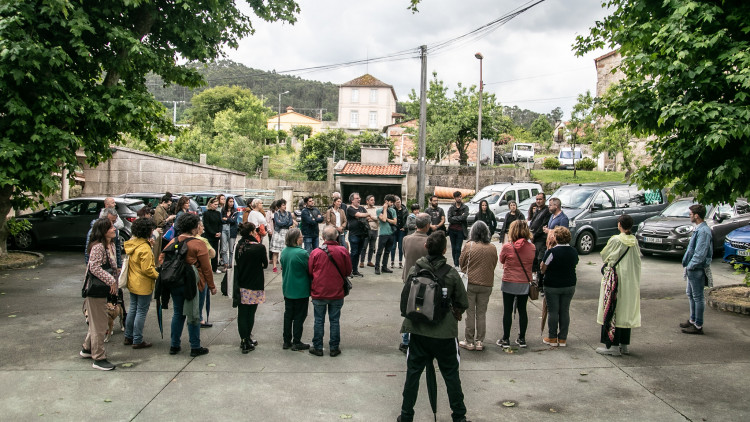 In late May we organised the first European session of Art as a Space of Encounter and a Common Walk in Galicia.
In late May, Concomitentes organised the European meeting Art as a Space of Encounter, and also a Common Walk in Santiago de Compostela and in the Montes de Couso communal woodlands (Gondomar, Pontevedra). These public sessions were intended to help us understand how communities can co-create, and the fact that it is necessary to come together in order to do so. The sessions were supposed to revolve around the concept of "encounter", without becoming an abstract exercise. So we conceived the encounter as it unfolded, together.
It's common knowledge that we have the capacity to get things done together, and we want to boost this process and to figure out how art can help communities join forces and imagine new processes and products, or communally manage a woodland area, a work of art, or a shared heritage. In the course of 2023 and 2024, as part of the European project Art Living Lab for Sustainability—which financed this activity—we will carry out three participatory projects to increase community awareness of the capacity to self-manage their lands and reconnect with their immediate environment. The first step is to meet. To find out what some people need, what others wish for, and what is at stake: an encounter based on deep listening. In this sense, art brings the body into play, heightens sensibilities, and activates different ways of approaching reality, which in many cases have been silenced.
Art Living Lab For Sustainability is financed by the European Commission through its Creative Europe programme. It is led by Concomitentes and its partners from Nieuwe Opdrachtgevers, Societé de Nouveaux Commanditaires and the University of Santiago de Compostela.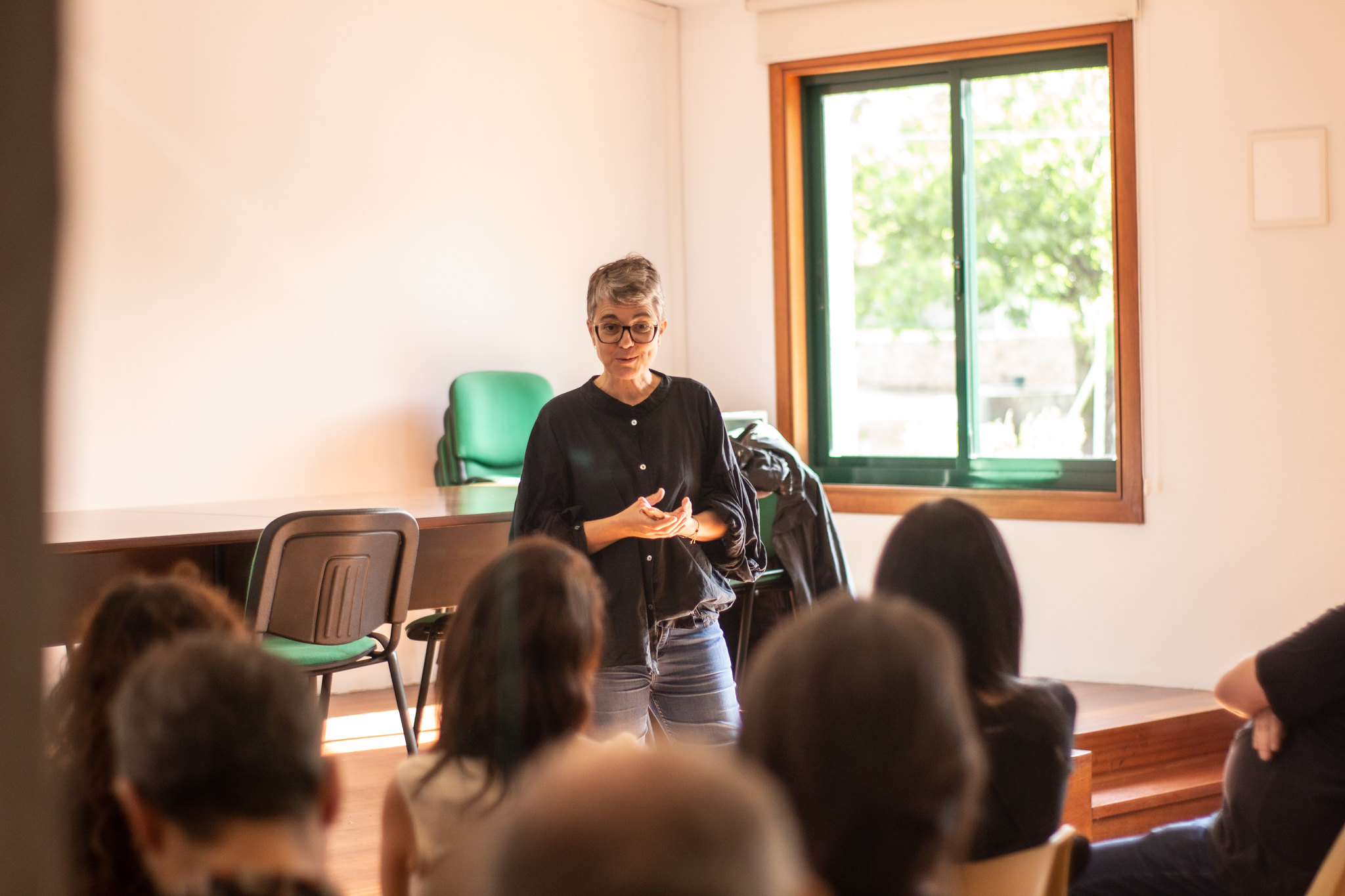 A European cultural meeting in Santiago
On 25 May, in Zona C in Santiago de Compostela, an open conversation began between Carmen Nogueira, the artist working on the Concomitentes project The Legacy Care; Valérie Cudel, member of La Société des Nouveaux Commanditaires and mediator of the Water Commons European project in France; Thérèse Legierse, art curator and coordinator of Belgian organisation De Nieuwe Opdrachtgevers; and Fran Quiroga, transdisciplinary researcher and coordinator of Concomitentes. The speakers explored the power of art to generate spaces of encounter that promote citizen agency, highlighting the broader impact beyond the production of an artwork.
Many arts practices are indeed explorations that seek to clarify what is happening in a particular place, shed light on contemporary injustices, or help communities interpret underlying processes. Therefore, art plays a crucial role in the production of individual and collective subjectivity and contributes to the creation of other ways of seeing and feeling the world. It does the important but undervalued work of experimenting with methodologies, protocols, other ways of doing things, and shared decision-making.
Considering the idea of the sensible as an encounter of multiplicity, the Art as a Space of Encounter exchange concluded with processes of citizen institution: the political imagination is art too. In order to be truly useful, the sensory experience of art must go hand in hand with an ethical framework and a political commitment that broadens the scope of artistic interventions.
In short, the workshop that unfolded by connecting the conversations of these voices went beyond the European project, as we learnt and discussed together based on our own practices.
Common Walk: Exploration of the Land Commons woodlands
Around sixty people from different countries, territories, experiences and backgrounds came together for the communal walk through the Montes de Couso. Local residents, artists, mediators, academics and other art, culture, and heritage workers came together with the Couso community. Body and soul were enriched by the open and all-embracing approach to addressing situated social conflicts and territorial development. Art, mediation and artistic creation were positioned as tools for social change and innovation with communities; the communal woodlands model was presented as a legal and organisational power of the past, present and future; and methodologies for the accompaniment and monitoring of projects like this at the academic level were discussed.
On Friday 26 May we visited the Couso Communal Woodlands with the president of the woodlands community, Xosé Arauxo, who led a guided tour of the main projects that are being carried out by members of the community. Accompanied by a beautiful downpour that soaked us through and through, we were able to visit the edible forest located in the high part of the woodlands, one of the elements that represent the diversity and multifunctionality of this territory. And we got a peek at the amphibian breeding refuge, although we didn't see it up close because the storm started.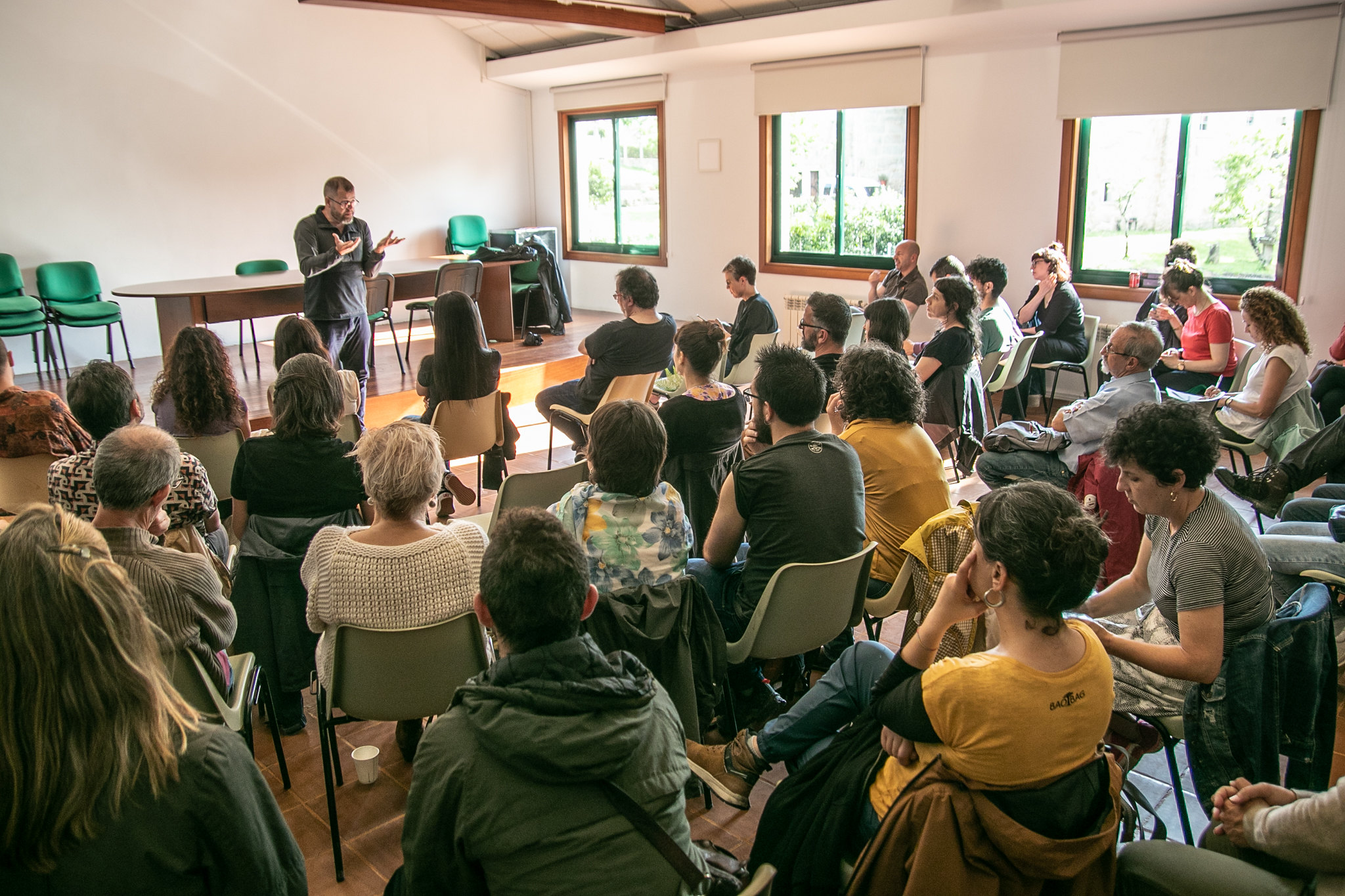 We continued the activity at the Casa Vecinal de Couso, a community resource created and run by the community members themselves. Once there, David Soto, a lecturer at the University of Santiago de Compostela, shared his knowledge of the communal woodlands and their value as a system of land and territorial management, and of social cohesion and emancipation. He presented the model as a very powerful tool for the uncertain future ahead of us as a society. The legal status of woodlands communities can offer an innovative solution for land management, fire prevention, food self-sufficiency, the creation of high-quality local jobs, and the protection of biodiversity.
Later, Benito Burgos, coordinator of the Cultura y Ruralidades programme and deputy director general of cultural cooperation with autonomous communities at the Ministry of Culture and Sport, introduced the various programmes organised by the ministry for the diversification and implementation of cultural production in rural areas all over Spain. A tool that supports embedded rural cultural, artistic, and heritage projects located in and connected with local communities.
To finish up, Natalia Balseiro, the mediator of the Spain-based European project The Land Commons, which is being carried out in Montes de Couso, shared a few insights into the mediation process that has been taking place as part of this project since March. She talked about some of the different thought processes and practices that are being developed with the Couso woodlands community and local residents, in order to imagine and come up with a common wish together. The discussion touched on how a mediation process of this kind requires giving up individual desire in order to talk about the needs of the woodlands community, the local area, the land, and other elements. And then, imagining solutions, problems and dilemmas that will allow us to move forward, through an artwork or an artistic intervention in the local area.
Of course, an encounter that revolves around art also had to include food, celebration and performance: at Casa Vecinal de Couso we enjoyed a performance by Petra Porter, who led us into the realm of desire, a tool that moves worlds and bodies. And, inevitably, we ended up moving our bodies, thanks to the music of Charanga Va de Baile.