Couso wants an artwork that is connected to nature, environmentally friendly and sustainable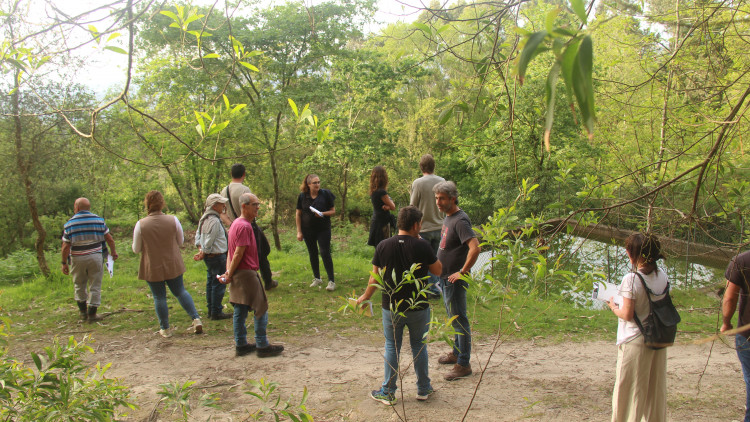 On day two of the Land Commons mediation process we went for a walk through the woodlands, opening up the process to the local Couso community.
The proposal for a group walk served a double purpose: on the one hand, to invite the local community, the commoners, to join us on a tour of the projects being carried out by the woodlands community. And on the other, to continue to open up the collective process, following up on the wishes raised in the previous session. The idea was to work on these, but also on the needs and the strengths of the woodlands area itself.
Our walk together led us to visit places, find materials, identify shapes, colours, sounds… To recover stories and memories, while continuing to imagine wishes associated with this land.
We identified sites and imagined creating site-specific artworks based on their stories, meanings and locations, their projects and belonging. There is a multitude of reasons to choose a place. Bosque da Língua, Ruta dos Anfibios, Alto do Viso, Santo Antoniño, Bosque da Memoria, Bosque de Frondosas, Ruta dos Oliviños, Ruta dos Petroglifos, Cruz de Pao, Pata Miras, Sobral, Espasante, Castro do Facho, Anel das Cíes, the bathing area, and the hills with lookouts were some of the places we imagined as possible sites for intervention.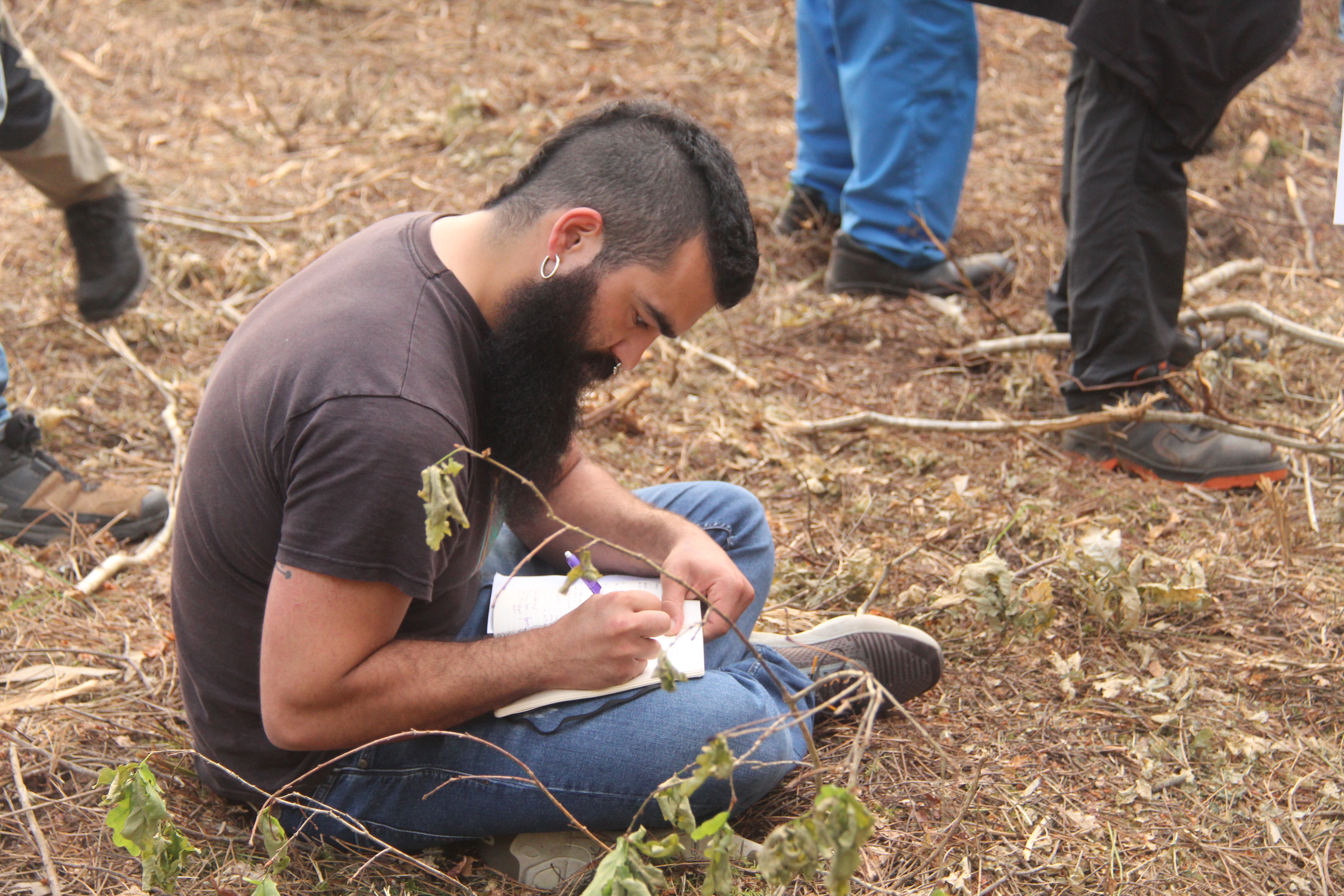 We imagined oases in which artistic creation coexists with the natural environment of Montes de Couso.
We imagined a nature-based artistic solution made from the natural materials that we found on our walk: stone, wood, resin, granite, pines, gorses, logs, and recycled materials such as rubble and nets. Non-perishable materials that require little maintenance, combined with plant-based materials.
The walkers suggested using the natural forms of the local environment, such as leaves, wheels, canines and natural puddles. They raised the possibility of working directly with the materials that nature provides, such as the trees and stones, and using the colours of the land, which change according to the changing seasons: greens, blues, yellows, ochres, deep reds, and violets. They urged us to listen to the sounds of nature: the wind in the trees, birdsong, bees buzzing, frogs croaking, the sound of water, crickets, the sound of wood chopping… The sounds of Montes de Couso.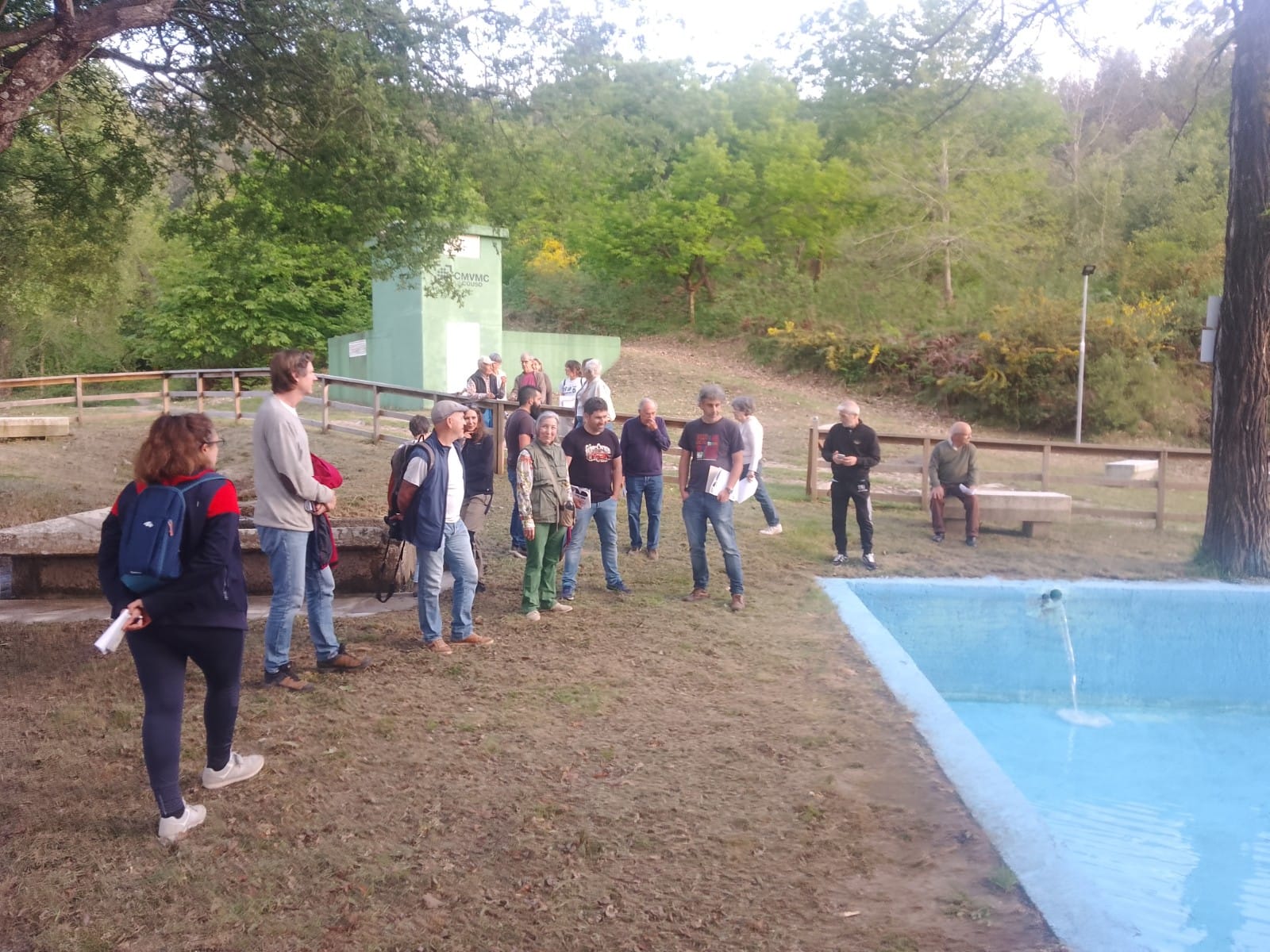 We also thought about recovering the memories and the stories of the local people, the stories linked to the places and tasks carried out in the woodlands: caring for animals, outdoor meals in Sobral, anecdotes about the bathing area, stories of agricultural and livestock farming, the washing areas, fruit picking, bicycle rides, games…
We will keep walking in Couso until we find its common wish.