Wishes of the community of Montes de Couso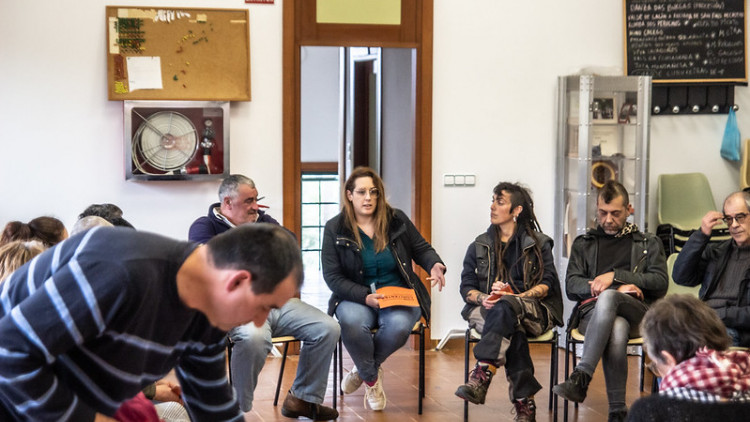 The community of Montes de Couso shared their individual wishes to imagine a possible form of the artistic work.
Late in the afternoon of day one of the Land Commons mediation process, we did an exercise aimed at getting us to start dreaming. All the participants—based on their own knowledge, experiences and needs, but after a collective conversation about attachment and connection to the land, to the woodlands, to the Montes de Couso, and to the surrounding area (Couso, Gondamar)—expressed their initial dreams for Montes de Couso, for this mediation process, and for the design and production of an artwork.
They dreamed of being able to live in the country with dignity through a self-sufficient community. They dreamed of a multifunctional, sustainable woodlands in which the preservation and protection of the native flora and fauna could coexist with the production of hardwood, enabling people to settle permanently in the area through the implementation of cultural and leisure projects as well as economic enterprises, directly or indirectly creating jobs through the woodlands community.
They dreamed of passing the baton to the next generation, raising awareness among the younger population and promoting their active participation in the woodlands community.
They dreamed of maintaining the community of Couso that exists today, but making it even more participatory. They dreamed of having a public and/or community means of transport to allow older members of the community to move around independently and to continue to live in Couso.
They dreamed of creating a monument to the people who have died in the area, of starting up a community radio station, and of an artwork linked to climate change. And they dreamed of implementing projects related to beekeeping and medicinal herbs. They also recognised the value of existing projects, and dreamed of continuing to work on them, thus enhancing their impact on the farms.
We shared these dreams by writing them down and putting them into a box for safekeeping. The dreams were read out by other people at the next meeting, on 27 April 2023, so as to share, out loud, the dreams of all participants in this process, right from the very start.