The landscape itself is artistic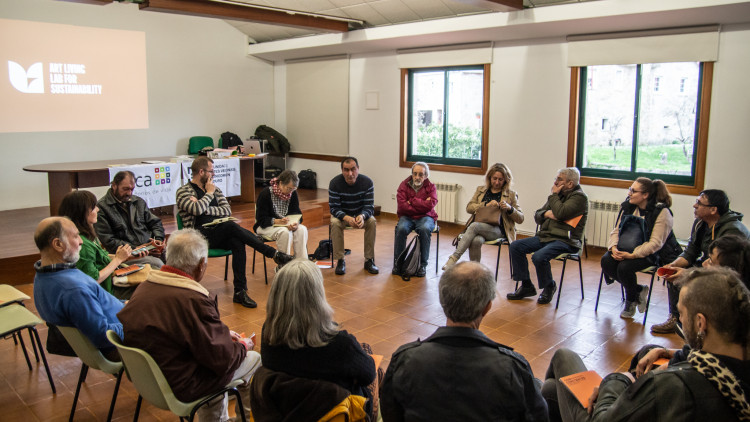 The meeting took place on 30 March, and members of the Montes de Couso community got together with the mediator and the Concomitentes coordinator.
To read the text in Spanish press here.
In late March 2023, the Montes de Couso mediation process began. On a wet and windy early spring day, we gathered in the wonderful Couso Neighbourhood Centre, a self-managed space built—like so many other local resources—by the woodlands community itself.
Despite the late start time of 6pm and the uninviting weather, more than twenty people turned up for the first meeting. All the members of the diverse and inclusive community—women and men, young and old, actively involved to different degrees, but all commoners—are now citizen-commissioners of this Land Commons process. All generations, ages 20 to 80, are part of this cross-cutting project that produces a form of communal life that aspires to self-sufficiency for living together.
We began by celebrating the start of this exciting process, with Concomitentes coordinator Fran Quiroga, who has a special bond with the communal woodlands due to all his work around the commons in general, and the communal woodlands in particular. I myself grew up and lived around the world of wood.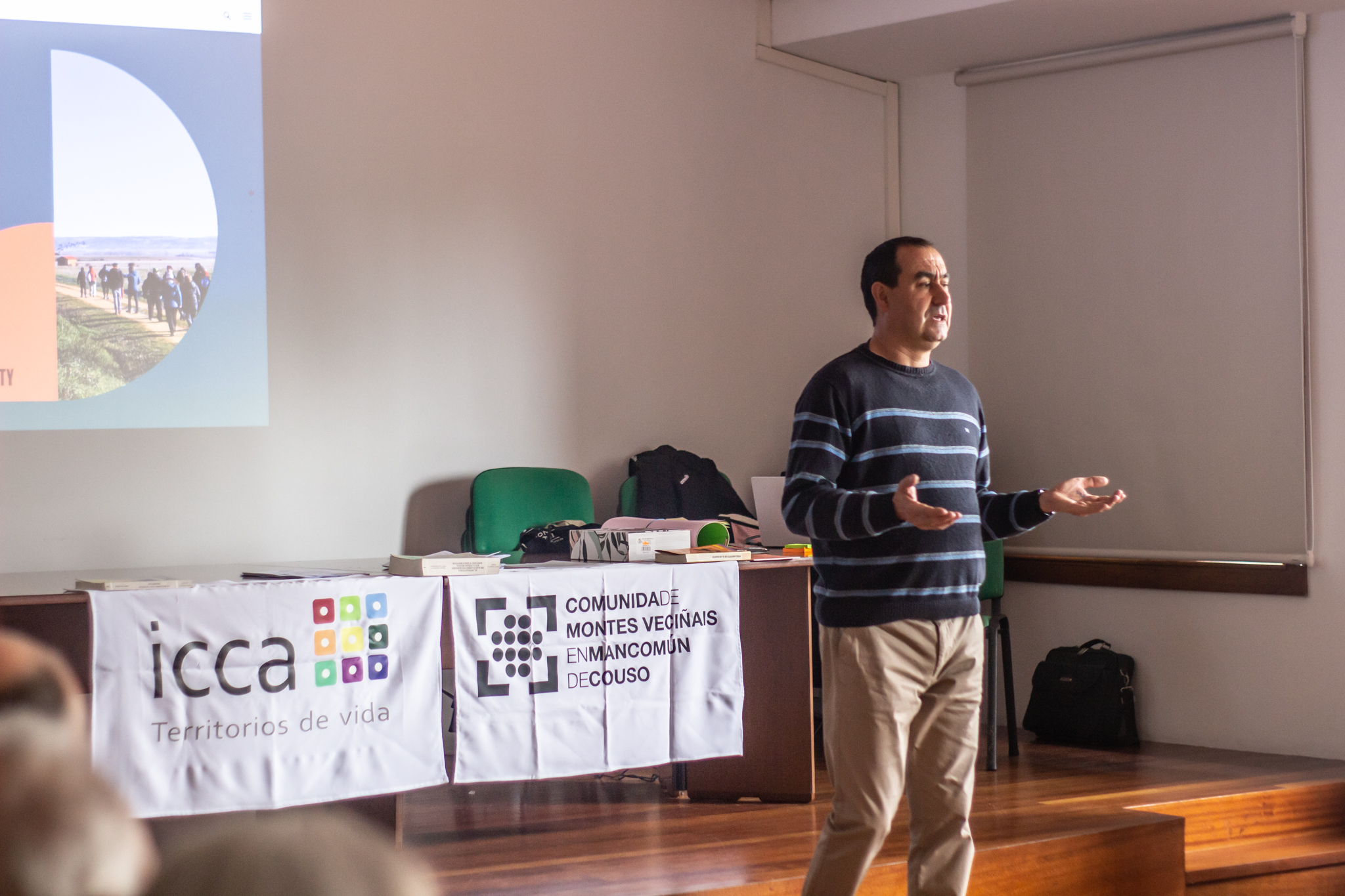 After introducing the European programme that the Land Commons project is part of, including examples of some of the other projects that are taking place around the country, we presented Land Commons. We talked about the challenges that lie ahead, the road we will travel together, and the calendar milestones. There were no doubts or hesitation, only eagerness.
We started by talking about the community's links to the woodlands, to the Montes de Couso. And the obvious thread running through the conversation was the fact that the land is part of the daily life of the commoners: it is their leisure and recreation space, but also a source of wealth—for the fruits and food it produces and the economic wealth it distributes among them. Instead of imagining and planning the exploitation of their common lands, they reflected on sustainability and multifunctionality. They want to be self-sufficient and generate resources for all, while caring for the planet and the Land Commons at the same time. They think about the woodlands from an economic point of view, but also from a social perspective, without losing sight of environmental conservation and climate change.
Their main goal is to improve people's lives through the woodlands community, generating a space for food, creating jobs, and providing opportunities to enjoy the landscape and its diversity. The landscape itself is artistic, these wise folk say.
Thinking in the long term, their greatest wish is to ensure that the woodlands remain communal. Together, we imagine how to ensure this happens. One the one hand, it is necessary to highlight the value of communal woodlands management and of everything that it can produce for nature, the landscape, and the environment as well as for the Couso community and society in general. And on the other, there has to be a transfer between generations, by getting young people interested in the woodlands and the communal management system.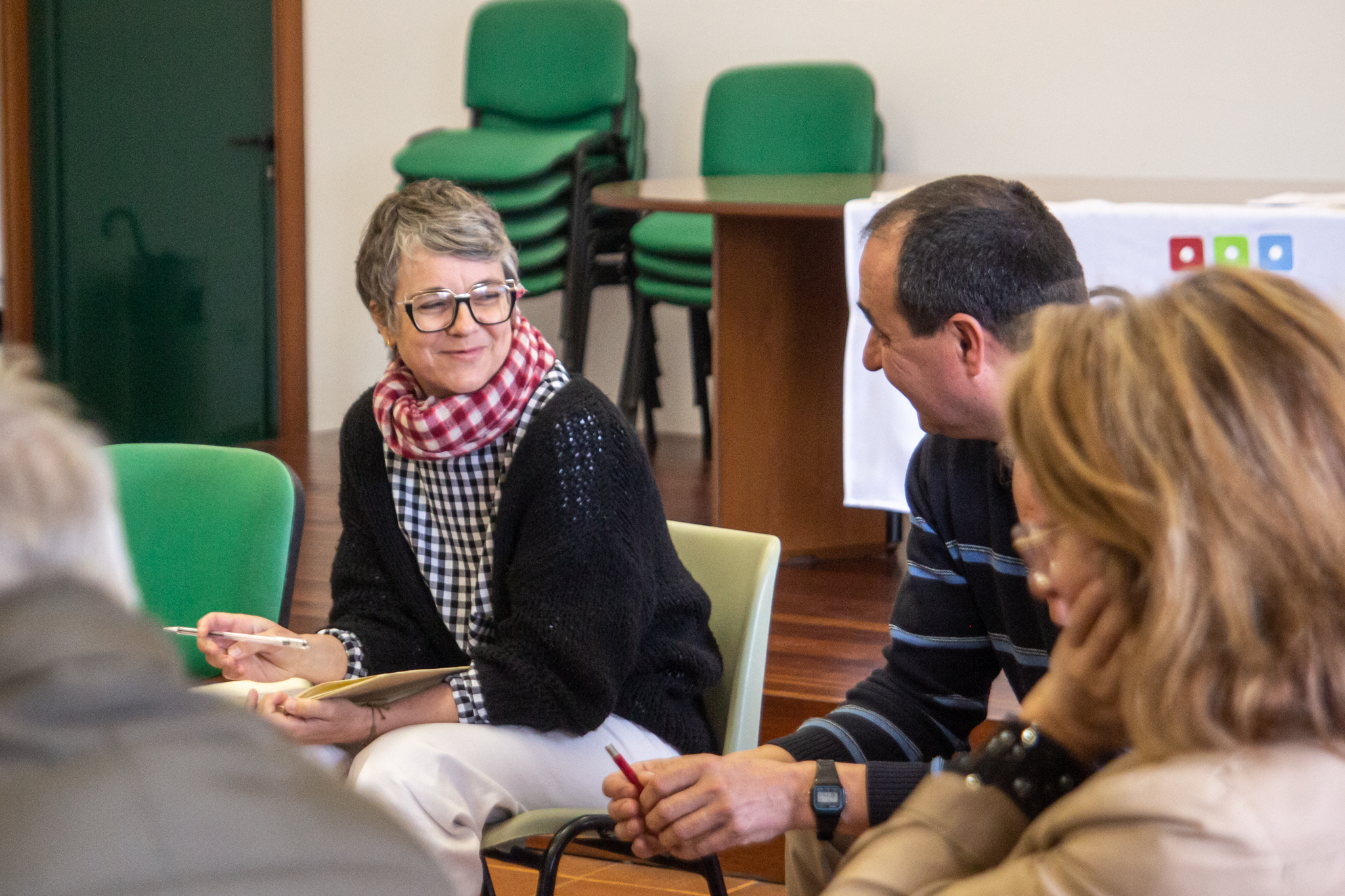 The woodlands are a source of pride for the commoners. These common lands have been part of many of these families for generations, and the woodlands help to meet the needs of the population. The commoners live in the countryside and they want the woodlands to produce resources to live on, while also maintaining the balance of the system, always giving back something to the natural ecosystem through their projects.
Consciously or not, some of the collective and communal characteristics of the woodlands community rub off on the community itself, thus improving the quality of life of the people who live in Couso through projects such as the energy community, an edible forest, a wastewater treatment projects, and other challenges and realities that lie ahead.
Historically in Galicia, woodlands communities have played a very important role in safeguarding tangible and intangible heritage, and in caring for the land.
In Couso, they are thinking about the ability to use the land to express themselves.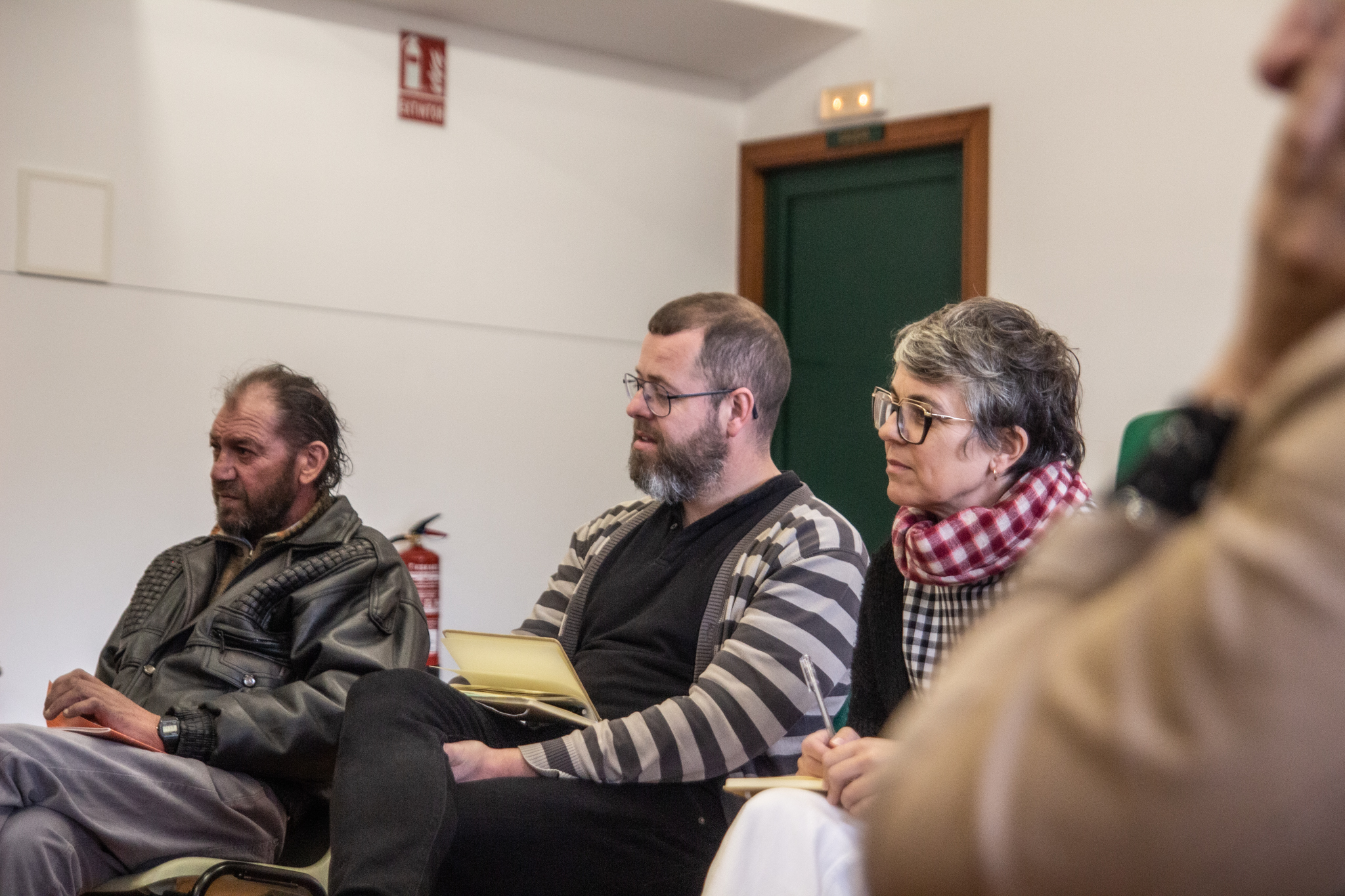 Right now, when they think about the future, their dream is for the woodlands to remain communal in future, with a transfer between generations in which the younger commoners are aware of what a woodlands community can do. This includes dynamic redevelopment within a legal framework—because the land is a living entity—for a sustainable woodlands that also brings earnings to the community. They are imagining producing and marketing hardwood, taking the woodlands community project into the educational sphere, and creating more and stronger links with other communities around them, not just land commons but also other collectives and projects. Starting new projects to let people know about Monte de Couso as an observatory of the night sky.
The commoners dream of restoring services in the village, such as public transport, of keeping rural schools open, and providing services so that young people don't leave. They also nostalgically remember the festivals that the community used to organise around the feast days of Saint Christopher, the Virgin of Los Remedios, Saint John's Eve, and the Magosto.
We concluded the meeting by writing down their wishes for the Monte de Couso in ten years' time, after this beautiful and intense conversation. A box received the wishes, and we will share them another day.
Naturally, we finished up with a Couso empanada gallega, washed down with local beverages. Over and out. We'll be back in a month.
A finales de marzo de 2023 iniciamos el proceso de mediación de Montes de Couso, inaugurada ya la primavera, en un día de viento y lluvia, en esa maravilla de lugar que es la Casa Vecinal de Couso, un espacio autogestionado y construido por la comunidad de montes, como tantos otros recursos del lugar.
A pesar de que la convocatoria es tarde, a las 18.00hrs, y que el día no ayuda, más de veinte personas participan en el primer encuentro, una comunidad diversa e inclusiva en la que mujeres y hombres participan, mayores y jóvenes, más o menos involucrados pero todas y todos comuneras y comuneros, ahora comitentes de este proceso de Tierra Común. De los 20 a los 80, todas las generaciones participan de este proyecto transversal, que produce una forma de vida en comunidad que aspira a la autosuficiencia para la vida en común.
Iniciamos el encuentro celebrando el arranque de un proceso ilusionante, junto a Fran Quiroga, coordinador del proyecto Concomitentes, que tiene un especial vínculo con los montes comunales, por todo su trabajo alrededor de los comunes y, en especial, de los montes comunales. Yo misma crecí y viví alrededor del mundo de la madera.
Tras presentar el proyecto europeo en el que se enmarca Tierra Común, así como el proyecto de Concomitentes, con algunos ejemplos de los otros proyectos que se están desarrollando en todo el estado, iniciamos la presentación de Tierra Común y de los retos que nos esperan, del camino que tenemos que recorrer juntas y del calendario que tenemos por delante. No hay dudas. Hay ganas.
Iniciamos la conversación hablando de sus vínculos con el monte, con Montes de Couso y si hay algo que atraviesa la conversación es que el monte forma parte de su vida de forma diaria, es su espacio de ocio, esparcimiento, pero también es una fuente de riqueza tanto alimentaria, por los frutos y alimentos que produce, como por la economía que distribuye entre las comuneras y comuneros. Lejos de imaginar y proyectar la explotación de sus tierras comunes reflexionan sobre su sostenibilidad, su multifuncionalidad para poder ser autosuficientes y generar recursos para todos, cuidando el planeta y, de paso, su Tierra Común. Piensan el monte desde una perspectiva económica, pero también social, siempre teniendo en mente la conservación del medio ambiente y el cambio climático.
Su gran objetivo es mejorar la vida de la gente a través de la comunidad de montes, generando un espacio de alimentación, creando puestos de trabajo, impulsando un espacio para disfrutar del paisaje y su diversidad. Dicen, esta gente sabia, que el paisaje es en sí mismo artístico.
Su gran deseo, si piensan a largo plazo, es conseguir que el monte siga siendo comunal e imaginamos juntas, que para que eso suceda, por un lado es necesario dar una gran visibilidad al valor de la gestión comunitaria del monte y a todo lo que esta es capaz de producir para la naturaleza, el paisaje y el medio ambiente pero también para la comunidad de Couso y la sociedad en general; y, por otro, lograr el relevo generacional interesando a las personas jóvenes en los montes comunales y su sistema de gestión comunitaria.
El monte es para comuneras y comuneros un orgullo. Forma parte de muchas de estas familias desde hace generaciones y ayuda a satisfacer las necesidades de las personas que habitan este territorio. Comuneras y comuneros viven en el rural y quieren que el monte produzca recursos para poder sobrevivir, pero en equilibrio con el sistema, revirtiendo siempre con sus proyectos, en el propio ecosistema natural.
La comunidad de montes, por su modo de operar, de forma colectiva y comunitaria, transfiere, de forma más o menos consciente, sus características a la propia comunidad, mejorando así la calidad de vida de las personas que habitan o Couso a través del impulso de proyectos como la comunidad energética, el bosque comestible, el proyecto de tratamiento de aguas residuales entre otras realidades y retos que tienen por delante.
Históricamente en Galicia, las comunidades de montes, ha jugado un papel muy relevante en la defensa del patrimonio material e inmaterial, así como en el cuidado de la tierra. En Couso piensan en la capacidad de usar el territorio para expresarse.
Ahora mismo si piensan en el futuro, sueñan con que el monte siga siendo comunal en el futuro, con un relevo generacional consciente de lo que puede una comunidad de montes, desarrollando a nivel legislativo una reordenación del monte dinámica -porque el monte está vivo- un monte sostenible y que de beneficios para la parroquia. Imaginan producir y comercializar maderas nobles, llevar el proyecto de la comunidad de montes al ámbito educativo y realizar más y mayores vínculos con otras comunidades que tienen alrededor no sólo de montes sino de colectivos u otros proyectos. Abriendo nuevos proyectos para dar a conocer el monte de Couso como un observatorio de estrellas.
Sueñan con recuperar los servicios en la aldea, como el transporte público, seguir manteniendo las escuelas rurales, disponer de servicios para que la gente joven no se vaya. Recuerdan también de forma nostálgica las fiestas, que en otras épocas, montaba la comunidad alrededor de San Cristóbal, la fiesta de los Remedios, San Juan o el Magosto.
Nos despedimos escribiendo los deseos que, después de esta conversación hermosa e intensa, surgen entre ellas y ellos, pensando en su monte de Couso dentro de una década. Una caja los recibe, otro día los compartimos.
Cerramos, como no podía ser de otra manera, con empanada de Couso regada con líquidos de la zona. Corto y cierro. Volvemos en un mes.